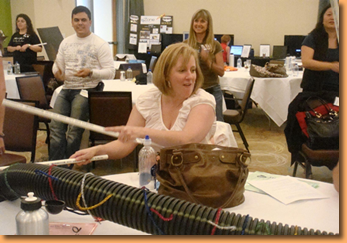 The new economy has necessitated increased cross-functional leadership for many organizations – a shift in paradigm that can be confusing and limiting if not properly defined, understood and embraced among leaders and employees alike.
Stomp Orchestra takes participants though a rhythm-building experience that addresses some of the fundamental challenges organizations face due to downsizing and reorganization. Using miscellaneous hardware items such as buckets, paint shields, PVC piping, etc., a facilitator guides multiple subgroups through a three-step process that metaphorically addresses their current leadership situation through inspiring, creative polyrhythmic play. Once all subgroups have achieved independent drumming proficiency and established independent leadership, they are all brought together to integrate into the orchestra at large. As a celebratory finale, two leaders from each subgroup help guide their individual team and the entire Stomp Orchestra through a powerful polyrhythmic jam.
Objectives
Understand new dynamics and leadership paradigm for any organization that has recently restructured or reallocated leadership roles
Challenge the groups' current perceptions of and vision for collaboration and collective accomplishment; realize full potential with readily available resources
Increase group morale and productivity by empowering through "spirited leadership"
Discover and develop the groups' skills for managing new, unconventional tasks
Develop communication and leadership tools that encourage interpersonal connections to build richer workplace relationships
Learn how to take accountability and recover from mistakes quickly
Augment an already inclusive environment that leverages diversity as a business advantage
Create a lasting impression among participants while having fun!
Stomp Orchestra is ideal for company conferences and retreats involving at least 50 participants – a hands-on experience that will leave a lasting, sonic impression while demonstrating the mechanics of cross-functional leadership in real time.