YogaRhythmBoom takes your students on a healthy lifestyles and wellness journey!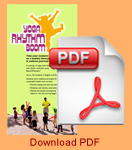 YogaRhythmBoom is a synergy of yoga, Latin dance and rhythm melodies using BoomWhackers® for up to 100 students in English and Spanish.
Students learn wellness principals for sustainable health and nutrition:
• Positive eating and exercise habits
• Diabetes and obesity awareness
• Mental, emotional and physical balance-let the journey begin!