Za Boom Ba™ modules last 60 to 120 minutes, focusing on specific topics that encompass team development, communication skill building, performance improvement, and wellness for all teams (new, forming, in transition, established); all levels of the org chart.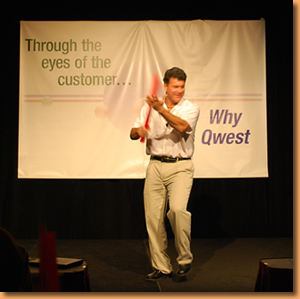 Engage your team in a powerful experience of collaboration utilizing drums and rhythm-based programming. Through specialized facilitation, your people will be energized and will directly experience the power of working together. Watch your team create shared vision, jettison barriers, and celebrate success. No previous musical experience is necessary - your team is guaranteed to jam!
Each participant is given an authentic drum or percussion instrument (based on the chosen rhythm module), and through specialized facilitation, the entire interactive session uses the playing and creation of rhythm to operationalize learning objectives.
While programs are customized to target specific teams and conference agenda goals, there are overarching objectives inherent in all Za Boom Ba™ sessions:

Develop leadership that promotes innovation, engagement, team awareness and the leader potential in every participant.
Empower the flow of communication to create engaging, effective language and that leads to breakthrough success and unification.
Promote respect for and integration of diverse perspectives, working styles, cultural norms and each team member's unique contribution.
Engage participants in an experience that celebrates the power of a team truly working together.
Each module includes periodic debriefing to enable participants to connect the learning objectives to the experience.
This is one of the most resoundingly energizing experiences for all participants. It sets a palpable context for all ensuing conversations/processes to go deeper and it supercharges authentic motivation. This module can be placed within the conference agenda as a powerful celebration capstone with which to adjourn, ensuring participant drive for action.