Synergy Team Building is an unconventional workshop involving percussion instruments from throughout the world as an integral part of the New World Synergy team-building process that emphasizes cross-cultural communication. This is a fun yet challenging approach to group-dynamics awareness that encourages positive leadership, communication and creative collaboration through interactive playing experiences and discussion.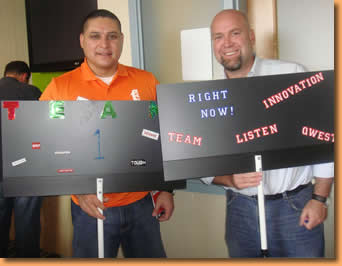 Synergy Team Building is great for merging companies or organizations that are undergoing significant change under pressure. Overall, this interactive, kinesthetic experience helps team members become more in tune with each other and the customers they serve – a bottom-line benefit that supports diversity initiatives outlined in The Diversity Management Toolbox.
Objectives:
Develop group synergy that promotes innovation, engagement, team awareness and the leadership potential among all participants.
Empower the flow of communication to create an action plan to encourages proactive behaviors that reinforce team effectiveness and unification.
Promote respect for and integration of diverse perspectives, working styles, cultural norms and each team member's unique contribution.
Get your team JAMMING – rhythmically, energetically and constructively!